Comfortable and well-equipped 3 star gîte for 6
and a smaller 2 star gîte for 2 people.
Fiona & Graham, your hosts, invite you to the Gîtes du Château de Coisse.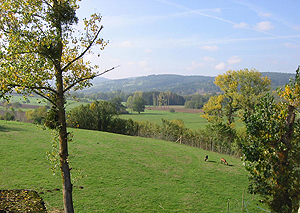 Set in the heart of the rolling hills of the Monts du Livradois, these tranquil gîtes in the tiny village of Montis, now called Coisse (taking the name of the château) with only 14 houses, are an ideal place to relax and forget the stress and grind of daily life. This recently converted 18th century barn has retained many of its original features and has been renovated with both history and practicality in mind. Even though the gîtes have a very private and rural setting, all amenities are just 2kms away in the town of Arlanc (see Services in the area).

We are just over one hour from both airports of St Etienne and Clermont- Ferrand and car hire is also available at both airports.


Contact Information

For reservations or further information,
please E-mail or telephone:



Telephone: 0033 (0) 473950045
Fax: 0033 (0) 473950045
(please inform us for fax to be turned on)
Postal address: Château de Coisse, 63220, Arlanc, France.
E- mail (General Information): chateaudecoisse@orange.fr